Riding in on the sunset to save the day for your exterior house washing jobs.
Why are we called Montgomery County Mounties Power Washing? The idea of the Mounted police started in the late 1800's and early 1900's. The idea was that a horse mounted police force could better maintain law and order than pedestrian only. Modern day, mounties are more ceremonial. But still, the idea behind them is one of protection and order. Now shift to why we chose the name…Mounties rode in to "save the day." At Montgomery County Mounties Power Washing, we are here to save the day! We're here to save you from the terrible tasks that can be overwhelming as a home owner. Rather than sit and stare at the greens and yellows that are currently overtaking your house, picture Montgomery County Mounties Power Washing riding in to rescue you from your mold ridden siding and roof . Power washing for you could mean:
Renting a power washer
Regret of not going to the beach instead of getting soaked in your own yard
So much time and effort
Your home exterior looking less than perfect
Oh and that clean up!
Call Now: (301) 941-4242
Rather than have "project regret", you could hire a company that comes equipped to "save the day." Imagine, you could leave for work in the morning and come home to a house that is so clean you'll think you pulled into the wrong driveway!
Power washing is so important for the health of your home. When you see green on your siding or brick that means that there is bacteria present. Bacteria can result in mold. Soft washing your home removes that bacteria, prevents mold from developing, and results in a clean and bacteria free surface. No matter what season it is in the Montgomery County area pollen is in the air. Pollen can come from different tree species, flowers, grass and ragweed at different times of the year. While we stay inside to avoid the effects that pollen and the resulting poor air quality has on us, our house is not as fortunate.
REASONS TO POWER WASH MONTGOMERY COUNTY HOME:
Harmful Bacteria that can lead to mold
Cut down on your own allergies by eliminating them from your front door
Unsightly greens and yellows that aren't the colors you're going for
Be proud of your home for when company is coming
Call Now: (301) 941-4242
Summer is the time to enjoy the outdoors. Have family over! BBQ! Deck parties! Chill in a lounge chair as the sun rises or sets. Have you ever tried to do those things when you know there's something else you need to do? It's nearly impossible to relax! While it's true your house needs to be power washed, it is not a fact that you have to do it. Montgomery County is home to one of the top rated power washing companies in the area! Montgomery County Mounties Power Washing has been helping your neighbors for years. We are experts in Soft Washing, Pressure Washing and Power Washing.
Our trained employees take seriously how they treat your property. We don't just send out anyone to power wash your home. We hire people who we feel are trainable, care about their job, and have a level of professionalism that will lead to you being treated with respect, curtesy, and your property being well cared for during the process.
When we come to your home in Montgomery County, we will make sure to:
Cover all bushes and plants so there is no damage from pressure washing
Wash away all remains of the disinfectant that was used to soft wash the exterior of your home
Be cognizant of not damaging any screens while power washing
Areas Besides Montgomery County, Maryland We Service:
Bethesda
North Bethesda
Potomac
North Potomac
Silver Spring
Gaithersburg
Rockville
Wheaton
Glenmont
Montgomery County Mounties Power Washing offers…
Pressure Washing
Soft Wash Roof Cleaning
Window Cleaning
Sidewalk, concrete, driveway cleaning
Deck Washing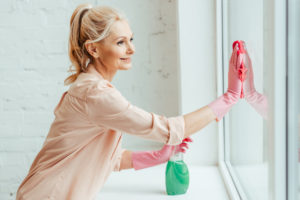 WINDOW CLEANING
Who doesn't like clean windows? We all want them! But who wants to clean them? There never seems to be anyone to volunteer for that job! If you have older windows, there can be many panes to clean. That window trim that looks great from a distance but it is tedious to clean. If you have new windows, sometimes the "convenient" feature of the tilt in can be difficult to operate. Crevices can be hard to get clean without the right tools. What cleaning solution is the perfect one to use? Which cleaning product gets the job done without taking a toll on your lungs? Then when it seems you've spent hours or days finishing the job, you realize you have a second story still to go! That second story can be dangerous if you're not careful!
Montgomery County Mounties Power Washing is your #1 company for window cleaning! We're not just cleaning windows for a "quick company is coming" clean up. We are going to professionally clean your windows top to bottom, inside and out. We will get all the crevices, all the panes, all the screens. And that second and third story too! Montgomery County Mounties Power Washing wants your neighbors to say, "Wow! Their windows look great!" We take pride in the fact that you chose Montgomery County Mounties Power Washing to come to your home and give it an extra shine. Clean windows may seem like a little thing, but at Montgomery County Mounties Power Washing it's a big deal to us! We want you to enjoy looking at your home as much as your view looking out of it.
ROOF CLEANING
All counties have their fair share of homes with dingy roofs. Montgomery County is no exception. And a dingy roof is not necessarily from owner's neglect. The environment can take a toll on a home's roof. Any area can be victim of these unsightly marks on a roof. However, humid climates are more susceptible. As we all know, Montgomery County is no stranger to humidity. While many things are often blamed for these streaks on roofs, the most common cause is a blue-green algae called Gloeocapsa Magma. If you're like most homeowners, you don't want anyone living on your roof unless they're helping pay the mortgage! Montgomery County Mounties Power Washing will help unload these free loading algaes! With a process called soft wash, we will gently wash away the streaks and stains from your roof. This will not only restore your roof to looking like new, but also help maintain the health and add years to your shingles life. Roofs are expensive! We all know that eventually the day will come with we will need a new roof just because of age. But no one wants to replace a roof before it's time! Our soft washing services will help to prolong the life of your roof. The longer we upkeep our roof, the long it will last! Montgomery County Mounties Power Washing can help your to save money, and wash away those nasty algaes.
GUTTER CLEANING
We offer…
3 options for gutter cleaning:
Cleaning your gutters.
We will clear all the debris from your gutters. They will come with ladders and professional employees who will remove all leaves, dirt, sticks, and other debris from your gutters without damaging your existing gutters. It may seem simple to clean them yourself, but it is difficult to stand on a ladder and peer over the edge of the gutter from the ground let alone a second story and definitely tempting to lean on and consequently crack a gutter. We come with equipment for easy access and professional employees willing to do the juggling on a ladder for you!
Power Wash your gutters.
North Bethesda has gotten a lot of rain recently. As a result many homeowners are finding that the outside of their gutters are dirty with runoff from their roof. Montgomery County Mounties Power Washing offers a service to power wash the outside of your gutters, removing dirt and restoring a clean look to the rest of your freshly power washed home.
Power Wash your gutters.
North Bethesda has gotten a lot of rain recently. As a result many homeowners are finding that the outside of their gutters are dirty with runoff from their roof. Montgomery County Mounties Power Washing offers a service to power wash the outside of your gutters, removing dirt and restoring a clean look to the rest of your freshly power washed home.
MONTGOMERY COUNTY, MARYLAND
Montgomery County is the most populated counties in all of the United States. That doesn't distract from its beauty, instead it adds to it. Montgomery County has some of the most beautiful cities in it. Bethesda is home to many ethnic restaurants adding culture and flavor to its natural beauty. Bethesda also is known for its many walking and biking trails and parks, Captial Crecent Trail and Glen Echo Park to name a few. Gaithersburg, Maryland is home to beautiful lakes such as Lake Needwood as well as a number of serene parks. And don't forget many families' favorite, Butler's Orchard for blueberry and blackberry picking in July and Apples and Pumpkins in September.
There are so many delightful cities, towns and villages in Montgomery County, Maryland.
Germantown
Clarksburg
Montgomery Village
Kensington
Chevy Chase
North Bethesda
just to name a few. Montgomery County is a wonderful place to live and operate a business. It is diverse and full of family friendly places and activities.
No matter what part of Montgomery County, MD you call home, Montgomery County Mounties Power Washing will be there to help maintain your home's beauty throughout the years.
When you call Montgomery County Mounties Power Washing, you won't be disappointed! In fact, you'll wish you'd done it earlier!
Montgomery Mounties Power Washing
Average rating:
7 reviews
Sep 25, 2019
We were in need of getting our building power washed, and we called a few different companies. But Montgomery mounties power washing stood out! Their prices and customer service are great and the work they do is even better! I highly recommend hiring these pro's
Sep 25, 2019
This company is priced just right for how high quality their services are. I highly recommend using them for all your exterior cleaning!
Sep 20, 2019
The crew was very cautious when power washing our siding on the house. They were careful to not damage our flowers and landscaping. In the end, it gave our home a fresh look and it looks great!
Sep 15, 2019
Each employee is very knowledgable and great at what they do. We have been customers for the past 2 years, and will continue to be customers.
Sep 15, 2019
Great People to do business with. They are honest and reliable
Sep 10, 2019
Had Montgomery mounties power washing come to clean my roof, and I was blown away with how good it looked afterward. No stains, streaking, or mildew left. They do great work!
Sep 10, 2019
5 Star Power Washing Company! All the positive reviews proved true about these guys. They are prompt, work hard, and have competitive pricing!